The power of natural ingredients
Made from 100% natural ingredients, Hair Restore Biotin Hair Growth Serum is safe to use with no side effects. It is guaranteed to be gentle on hair follicles and scalp.
The unique formula of
Biotin, Argan, Ginger, Aloe Vera, Onion, Tea Tree, Vitamin E, and the unique blend of 106 Essentials
combine to provide a stimulating formula for
rapid hair growth.
Hair thinning
and
baldness
may not physically harm you, but it does
add YEARS to your appearance.
This causes big problems with self-esteem, confidence, and mental well-being.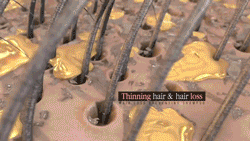 Hair Restore Biotin Hair Growth Serum is the powerful hair oil that
reduces the appearance of thinning and hair loss.
Activated herbal oils
thicken and repair hair's existing nutrient mix and
help damaged hair follicles to grow back.
The treatment begins to work immediately and hair becomes noticeably
thicker and fuller within 7 days of continuous use.
Witness your
hair transform from dull to shiny, shiny and smooth.
Helps your
hair grow naturally by activating
dormant hair follicle germ tissues on the scalp and
eliminating DHT production.
FEATURES:
Accelerates

hair growth and thickening by 30% -40%, which means double the results in half the time.

Powerful and immediate repair

of currently damaged hair.
Conditions hair to keep it

healthy and tangle-free

all day long!

Actively strengthens and thickens hair

, reducing hair bifurcation and unsightly split ends.

It stimulates the scalp and prevents the production of DHT

(a harmful compound that causes the follicles to shrink). This prevents further loss, allowing your hair to flourish.
MORE INCREDIBLE BENEFITS!
QUICK ACTION FORMULA - Regular use of Hair Restore Biotin Hair Growth Serum results in thicker, stronger and healthier looking hair you've always wanted ... all IN JUST 7 DAYS! Its fast-acting hair repair properties support the adrenal glands, which help stimulate healthy hair growth.
REVIVE DRY SCALP - The serum's powerful all-natural ingredients help add strength and nourishment to the scalp. It retains the PH level of the scalp, thus giving birth to new hair growth successfully while maintaining the moisture level of the scalp at the same time.
REPAIRS DRY AND CURLY HAIR : Natural 7Days Hair Rerowth Serum not only regrows lost hair, but also helps repair dry and damaged hair and controls static strands. It is a comprehensive hair care solution to tame your wild and frizzy hair. No more bad hair day!
Hair loss can be devastating for both men and women, but you don't have to endure it forever. With the help of 7Days Natural Hair Growth Serum , now you can't regain the shine and shine of your supreme glory IN JUST 7 DAYS! Regain your confidence with thicker, fuller, and more vivid hair NOW!
USE:
SPECS:
Main ingredients: ginger extract, ginseng extract, soybean, wheat germ.

Net Weight: 30ml